In today's digital age, having a strong online presence is essential for businesses of all sizes. Whether you run a small startup or a large corporation, a well-designed website is crucial for attracting customers, establishing your brand, and driving growth. To create an outstanding website, you need a skilled website developer who understands your vision and can bring it to life. But finding the right talent can be challenging. That's where staffing agencies come in. In this comprehensive guide, we'll explore the best staffing agency in India to hire a website developer: Growel Softech.
The Importance of Hiring the Right Website Developer
Before diving into the world of staffing agencies, it's essential to understand why hiring the right website developer is crucial for your business.
Expertise Matters
Website development is a complex field that requires a deep understanding of various programming languages, frameworks, and design principles. An experienced developer possesses the knowledge and skills to create a website that not only looks great but also functions seamlessly.
Save Time and Resources
Hiring a website developer directly can be time-consuming and expensive. You need to sort through resumes, conduct interviews, and onboard the chosen candidate. A staffing agency streamlines this process, providing you with pre-screened and qualified candidates, saving you time and resources.
Focus on Your Core Business
By delegating the task of finding a website developer to a staffing agency, you can concentrate on your core business activities. This allows you to remain productive and focus on growing your business while leaving the hiring process to the experts.
The Role of Staffing Agencies in Hiring Website Developers
Staffing agencies play a crucial role in matching qualified website developers with businesses in need of their expertise.
Extensive Talent Pool
Top staffing agencies, like Growel Softech, have access to a vast talent pool of skilled website developers. This pool includes candidates with various levels of experience, from junior developers to senior architects.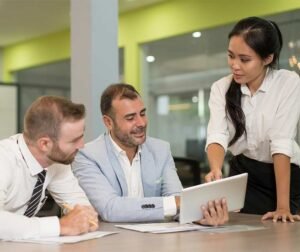 Pre-Screening and Assessment
One of the significant advantages of working with a staffing agency is that they thoroughly pre-screen and assess candidates. This includes evaluating their technical skills, portfolio, and cultural fit. You receive only the best-matched candidates, saving you the hassle of initial screening.
Customized Solutions
Staffing agencies understand that each business has unique needs. They work closely with you to identify your specific requirements and tailor their services accordingly. Whether you need a developer for a short-term project or a long-term commitment, they can provide the right candidate.
Flexibility
Staffing agencies offer flexibility in terms of hiring arrangements. You can opt for contract-based, temporary, or permanent hires, depending on your project's duration and budget.
Introducing Growel Softech
Growel Softech is a leading staffing agency in India known for its exceptional services in matching businesses with top-tier website developers. Let's delve into why Growel Softech is the best choice for your web development needs.
Expertise in IT Staffing
With over two decades of experience in IT staffing, Growel Softech has honed its ability to identify and source the best IT talent in India. They have a deep understanding of the industry's demands and trends.
A Wide Network of Professionals
Growel Softech has a vast network of skilled website developers, including professionals with expertise in various programming languages, content management systems, and e-commerce platforms. This network allows them to find the perfect fit for your project.
Thorough Candidate Evaluation
Growel Softech conducts rigorous technical assessments, behavioral interviews, and reference checks to ensure that the candidates they present to you are not only technically competent but also a good cultural fit for your organization.
Customized Solutions
The agency recognizes that every business is unique. Whether you're a startup looking for a temporary developer or a corporation seeking a long-term addition to your team, Growel Softech can customize its solutions to meet your requirements.
The Benefits of Choosing Growel Softech
Now that you're acquainted with Growel Softech, let's explore the benefits of selecting them as your staffing agency for website development.
Time and Resource Savings
By partnering with Growel Softech, you save valuable time and resources. They handle the entire hiring process, from candidate sourcing to initial evaluations, leaving you to focus on your business's growth.
Quality Assurance
Growel Softech's extensive screening process ensures that you receive only top-quality candidates. This minimizes the risk of hiring a website developer who may not meet your expectations.
Swift Turnaround
With a vast talent pool and an efficient selection process, Growel Softech can provide you with qualified website developers quickly, allowing your project to progress without delays.
Flexible Hiring Options
Whether you require a website developer for a short-term project or a permanent addition to your team, Growel Softech offers flexible hiring arrangements to meet your needs.
Conclusion
In the world of website development, finding the perfect candidate can be a daunting task. Growel Softech, the best staffing agency in India for hiring website developers, takes the hassle out of the process. With their expertise, extensive network, and commitment to quality, you can rest assured that you'll find the ideal website developer for your project. By partnering with Growel Softech, you'll save time, resources, and the stress of finding the right talent, allowing you to focus on what truly matters—growing your business and achieving your online goals. Don't let the search for a website developer slow you down. Choose Growel Softech and witness your web development dreams become a reality.